A Thrill Ride
Beyond
Manhattan After Dark
Where
Dangerous Passion
Meets
Forbidden Romance
Meet the Sexiest Men in Manhattan
Jonny and Cheryl's story is a fast-paced trek from the glitter of New York to the tropical sun of South Beach as they surrender to the growing passion that could wreck them.
Eddie is desperate to put his past behind him until saving Paige, a woman way out of his league threatens to throw him back to the life that nearly destroyed him.
Exclusive Excerpt
DANGEROUS PARADISE
"I'd never do anything to hurt you." Eddie ran his hand through his hair. "You know that, right?"
Right now Paige didn't know anything. Only that she was in a semi-dark room measuring eight feet square with a man who set her on fire and watched her burn. His mouth, his tongue, the heat of him possessed her until she lost all reason.
Eddie's hand caressed the nape of her neck, and her nipples tightened. "You can't deny what we feel."
Paige wished she didn't feel anything. She wished he didn't affect her like a tidal wave of emotions flooding her heart. She wanted to trust him, wanted to grab onto those muscular, tatted arms and never let go, but she averted her eyes. How could she trust him again with so much at stake?
Jonny Vallone, the dark, brooding owner of Manhattan nightclub, Beyond Paradise doesn't need anymore complication in his life. Then savvy con artist Cheryl Benson barges into his office and spits out a confession that would make most men run for cover.
Jonny can't resist Cheryl's pleading green eyes as their wild ride whisks them from the glitz of Manhattan to the sultry beaches of Miami in a desperate attempt to break free of their shady pasts while trying to tame the fiery passion around them.
LOVE IT REVIEW IT
Go To Amazon Now
​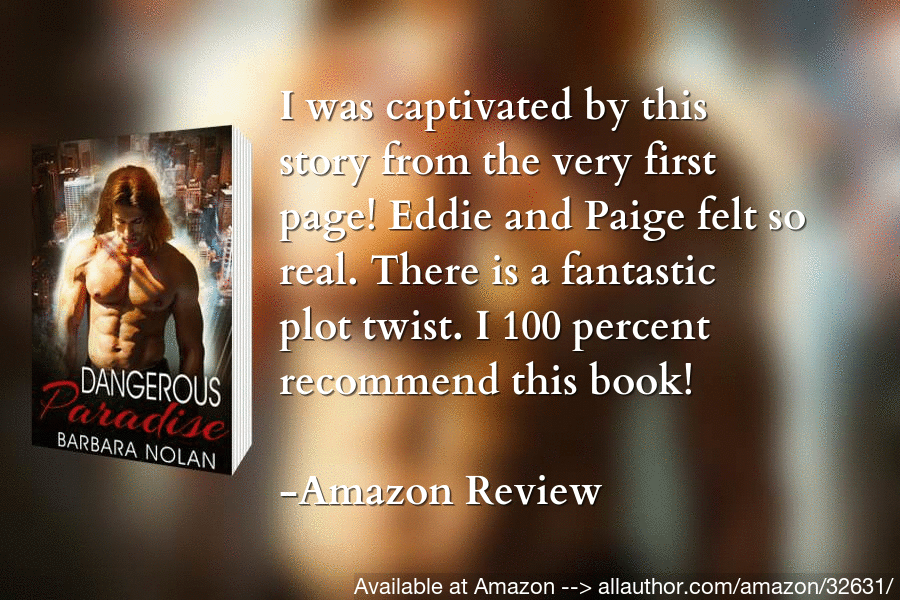 CRITICS ARE LOVING
Jonny and Cheryl
"A Steamy Action-Packed Page Turner"
"Barbara Nolan has this Genre Nailed"
"An Emotional Romantic-Suspense"
"Gangsters and Love. A Gorgeous Read"
"Amazing Romantic Story, I Couldn't Put it Down"
"This Book was Captivating"
"Jonny and Cheryl will set your Kindle on Fire"
​
"Sizzling Hot Chemistry, Emotionally Gripping"
READERS ARE LOVING
Eddie and Paige
"A captivating read."
"Good, rich girl, meets bad, sexy boy."
"Hot, sexy as sin. An addicting read."
"Once I started reading I was hooked."
"Who doesn't love a bad boy. A real page-turner."
"This book is a must-read."
--Amazon Reviewers
LOVE IT REVIEW IT
Go To Amazon Now